The Books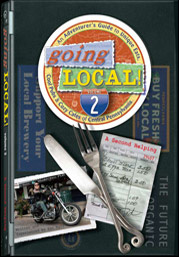 going LOCAL! Volume 2
An Adventurer's Guide to Unique Eats, Cool Pubs and Cozy Cafes of Central Pennsylvania. Volume 2: A Second Helping
For Volume 2 Ken writes in the Preface "Wow, what a ride (literally)! In 2007 while working on my first volume of going LOCAL!, I put over 7,000 miles on The Mighty Steed (my '94 Harley Sportster) exploring the back roads and byways of central PA to find some really cool places for you to eat, drink, or just hang out with a cup of coffee. I went into production on that book even while writing it, and with the help of a wonderful group of people, had it published and released on December 1st of that same year. If that wasn't enough of a ride, the events to come were like hitting high gear on a wide open road."
What he's referring to is the great success that followed book 1 and the inspiration to do a Volume 2, or "A Second Helping" as he has subtitled it. Like the first book, going LOCAL! Volume 2 also explores eateries, pubs & cafés of central PA but is filled with ALL NEW PLACES! It's not a revision or an update, it's continuation of the journey and a must have for the hungry adventurer!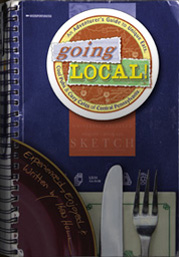 going LOCAL! (the original)
An Adventurer's Guide to Unique Eats, Cool Pubs and Cozy Cafes of Central Pennsylvania

This Original Volume is
SOLD OUT!

Thanks to all those who purchased my first book. 5,000 copies have been sold since it's debut in December of 2007. Volume 2 has already sold half of that amount in only one year! Thank you so much!
A second edition eBook is in the works. Please check back.