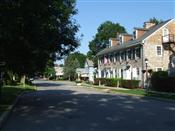 The following are just a few of our wonderful independent businesses here in Boalsburg and I've included my personal story on each place here. There are many more locally owned goods and sevices around the area as well, and I encourage you to visit and support them all.
Keene's Barber Shop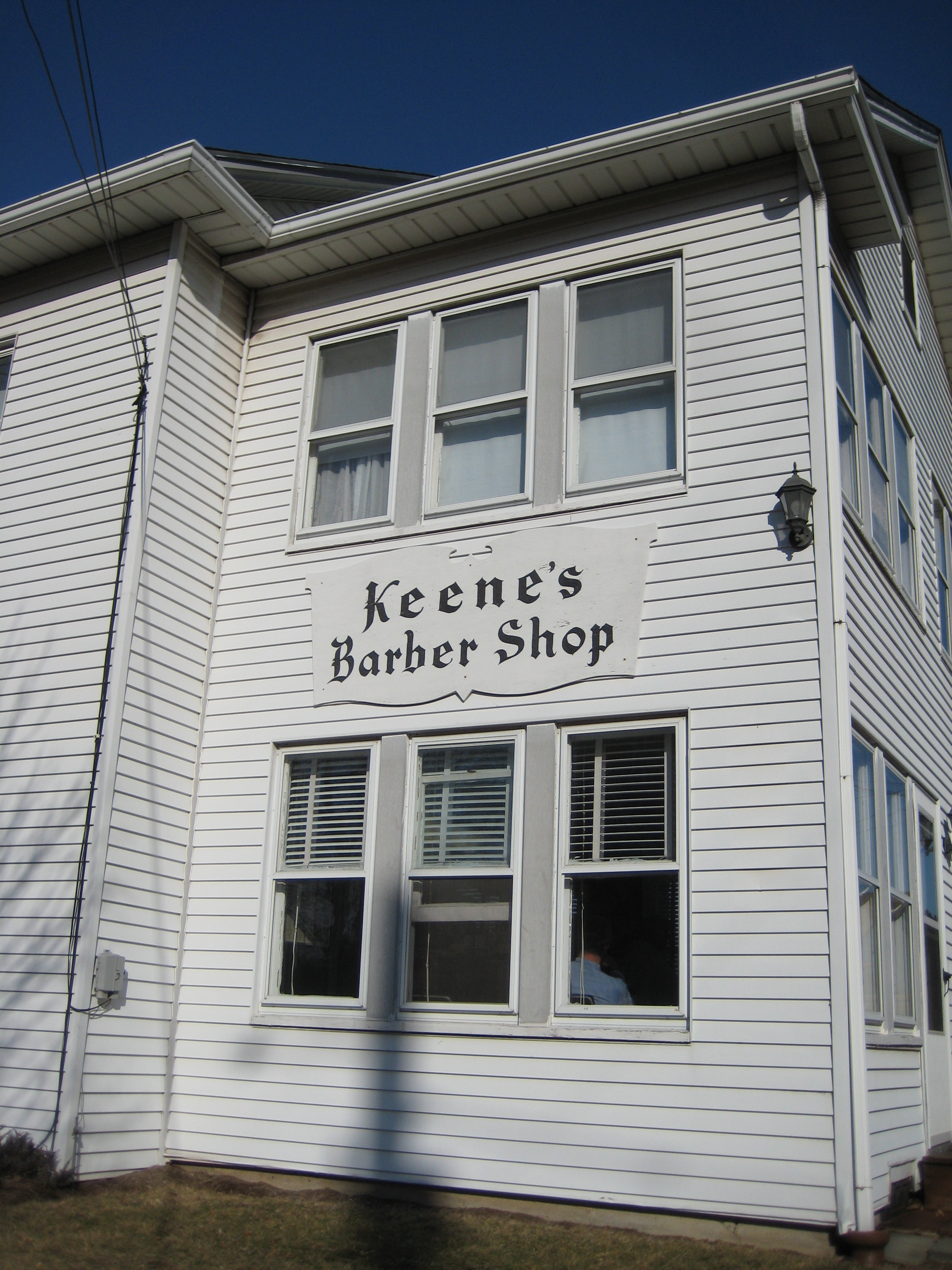 Locally Owned By: Rob Jackson
Goods or Service: Haircuts
Hours: Tue. – Fri. by Appointment
Location: 217 N. Church St.
Contact Info: 814-466-4868


It seems these days if it's not a chic salon where you pay $125 for a haircut, $60 worth of goop to put in your hair, and then another $50 for special shampoo to wash the goop out, it just isn't hip. Well, at Keene's, its $14.00 whether your hair is long and full or thin and barely there. Don't get me wrong, I've gone to a salon before. In fact, my friends and neighbors own two of the best ones around – one is Portfolio, and the other is Elaine's, right across from my house. All these places have a dedicated clientele and are always busy. But, if you're a guy and want a good basic haircut at a more-than-fair price, Keene's is it.

When Nestor Keene opened his barbershop in 1951 it was located on the village square. Once business got rolling, he renovated a side room of his home on Church Street, put out one of those cool spinning barber poles and started snipping away. His son, Bob, learned the art from his dad and went on to teach barbering at the nearby Rockview State Correctional Facility. He also cut hair right alongside his dad, and when his dad passed away he had the shop to himself. He didn't change a thing, and to this day I don't think it's any different than in the 50s and the TV is even still on in the corner. Well, actually, they have an air conditioner now in the window, the TV is new, the shop's been repainted, and the magazines are current. Other than that, I think it's about the same. Oh yeah, no more barber pole – however, I'm lobbying hard for Rob to get one.
It's a two-chair place, and the chairs are those awesome ones from the middle ages that have the leather strap hanging from them to hone a straight razor. Really, they're not from the middle ages but they are old. Every time I sit down in one, I flash back to my childhood in Pine Grove Mills and getting my hair cut at Catherman's Barbershop where they used the exact same chairs.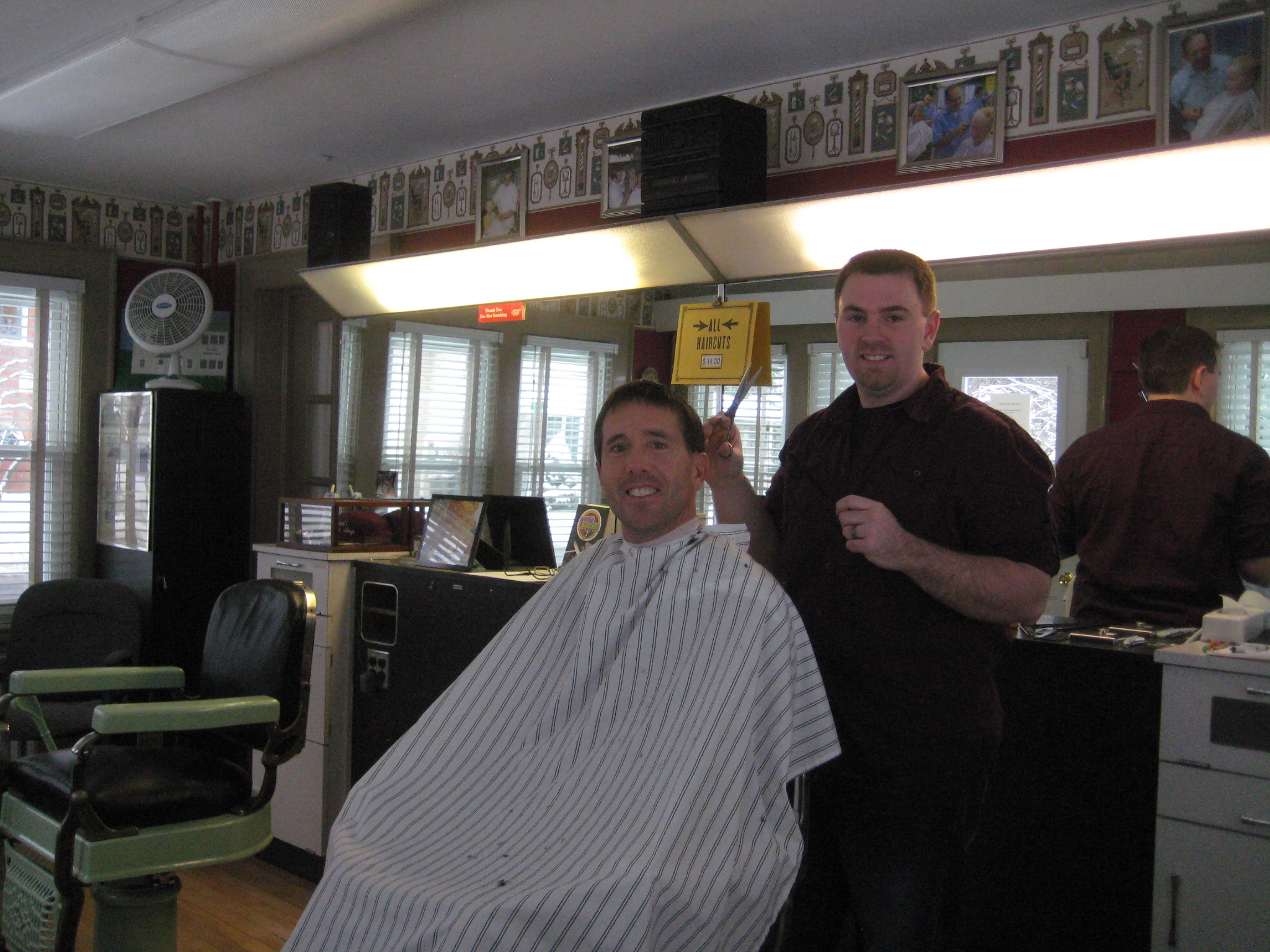 Now, 59 years later, third-generation Rob Jackson is following in his great-grandfather's footsteps. His grandfather, Bob, taught him the trade because he was a certified teacher at the prison. Thankfully, Rob learned on "the outside" so I have no fears when he hones a straight razor to shave the back of my neck. For a few years Rob and Bob worked side by side, but sadly Bob passed away in the summer of 2008 from a bout with cancer. Even after he was first diagnosed and feeling the difficulties of the disease, he continued to work at the shop with his grandson. He eventually had to scale back to part time, but kept going all the way to the end. He never complained and was always happy to see me.
Guys, if you've never gone to an old-school barber shop for a haircut – you don't know what you are missing. There's just something about the space, mirrors, customer chairs along the wall, magazines laid out, TV on, the cool vintage barber chairs, and the smell of Pinaud. But more than that, for me, it's about the tradition of a trade that has been around for thousands of years, passed on from generation to generation, from father to son and then to great-grandson. When I look down at my feet, and read the name Koch on the footrest of the barber chair, I remember my childhood and I feel the sense of community by supporting a local business that has been around for 59 years. That's why I go to Keene's.
Hey, who am I kidding? It's the $14.00 haircut.
Please Support!



Colonial Press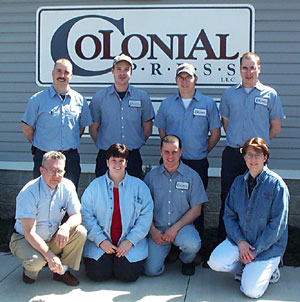 Locally Owned By: Glenn "Butch" Dry
Service: Single, Multiple and Full Color Printing
Hours: Mon. – Fri. 8am to 5pm
Location: 500 Loop Road, Boalsburg
Contact Info: 814-466-3380 www.colonialpress.net

There's nothing better than doing business with a neighbor. Not only that, but when the neighbor is an active member of the community and a long-standing member of the Boalsburg Volunteer Fire Company, it's even better.

"Butch" (as the locals call him) Dry, owner and proprietor of Colonial Press, is one of those guys who must lay awake at night wondering how he can be any nicer and more helpful than he already is. His son Chris, who is his right hand man, and Chris's wife, Stephanie, the secretary, bookkeeper, and keeper of sanity, must do the same thing. In fact, the whole gang there must do it. I bet they actually have meetings to discuss how to be more friendly, get jobs done ahead of schedule, make their prices more competitive, and go the extra mile to make sure their customers are elated (not just happy) with their job and always coming back.

When I was working on my first book, I needed promotional materials to have at a local arts festival. Like most of us, I needed them right away because the invitation came at the last minute. At the time I had nothing to display or give out – heck, my first book wasn't even done. But I couldn't pass up this opportunity to get the word out, so my cover designer Rose Ann created a bookmarker for me to give out. When I called Butch two days before the festival started, he said, "E-mail the design to Chris and we'll get'er on right away." I had hoped for a two-day turnaround but when Stephanie called the next afternoon and said they were done and a bit less than Butch quoted me, I was – elated! And that's just one example of many I've had over the years with Colonial Press.

Colonial Press has been in business for 21 years and I'm sure, or at least I hope, it will continue to be around for a long time in the future. Business owners like Butch Dry and his son are, in my opinion, a dying breed. Not necessarily because we're running out of this kind of hard-working and dedicated people, but because people are fooled into thinking that the chain photocopy places are faster and cheaper. They're not. But places are dying off because we're not supporting them, and if we're not supporting them they can't stay in business. I'm no economics professor, but I know this: when you go to places like Colonial Press, you're not only getting superior quality, service, and price, you're keeping alive a business, a family, and a community.

Please Support!



Boalsburg Apothecary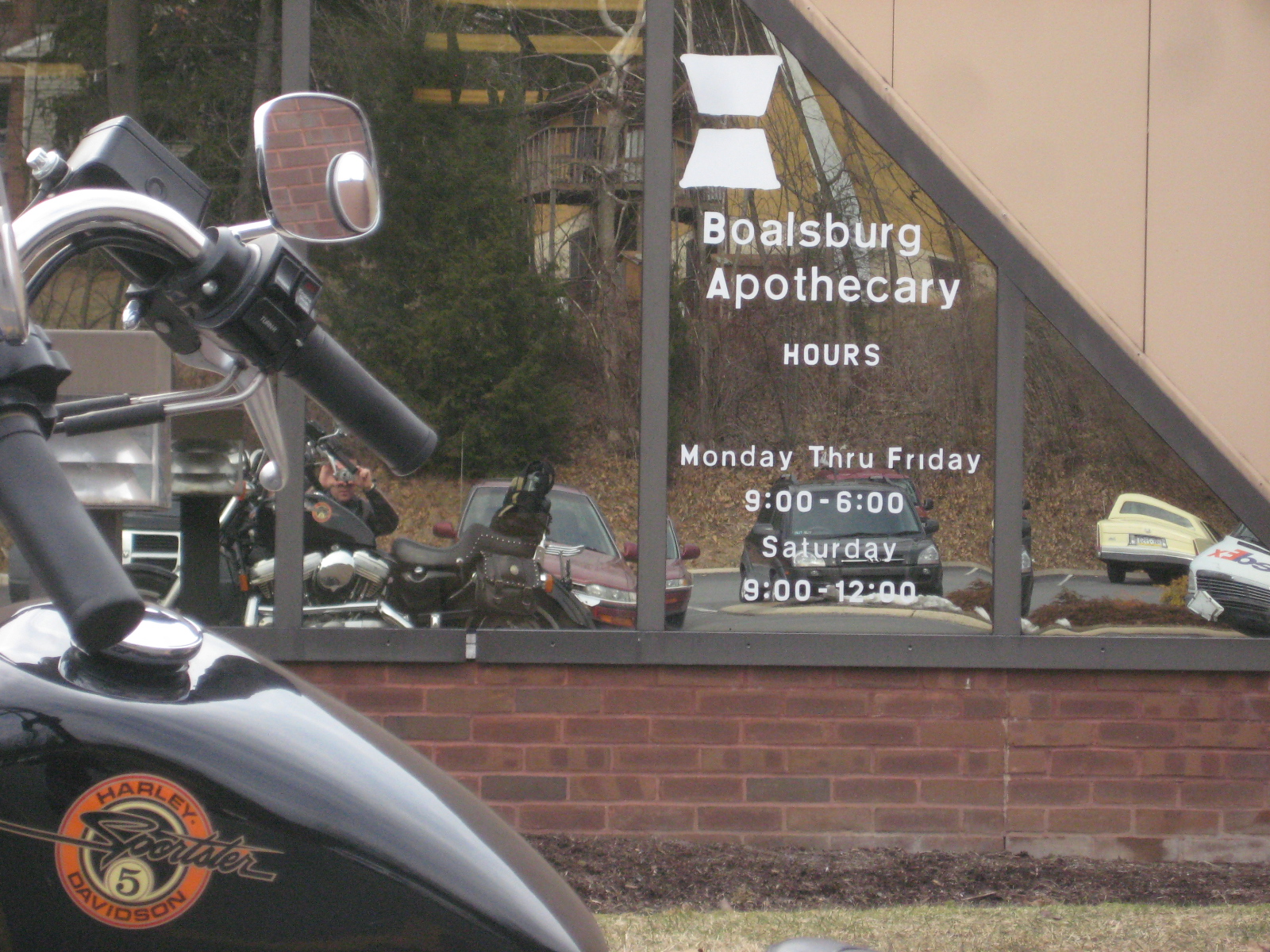 Locally Owned By: Jean & Mark Doyle; Pharmacist/Manager: Wayne Foster
Service: Pharmacy
Hours: Mon. – Fri. 9am to 6pm, Sat. 9am to 12pm
Location: 3901 S. Atherton St. (Boalsburg Medical Center)
Contact Info: 814-466-7936, www.theboalsburgapothecary.com


In all my travels to Europe, one of the things I always look forward to is a visit to the local village pharmacy. Not for drugs necessarily but for some of the essentials, like shaving cream and other toiletries. In France especially, that stuff has the nicest fragrance, and I always feel like I'm in the movie Casablanca when I shave and then put on aftershave – the smell is classic. I then bring it home, and on special occasions break it out and I'm right back on the dusty streets of Morocco.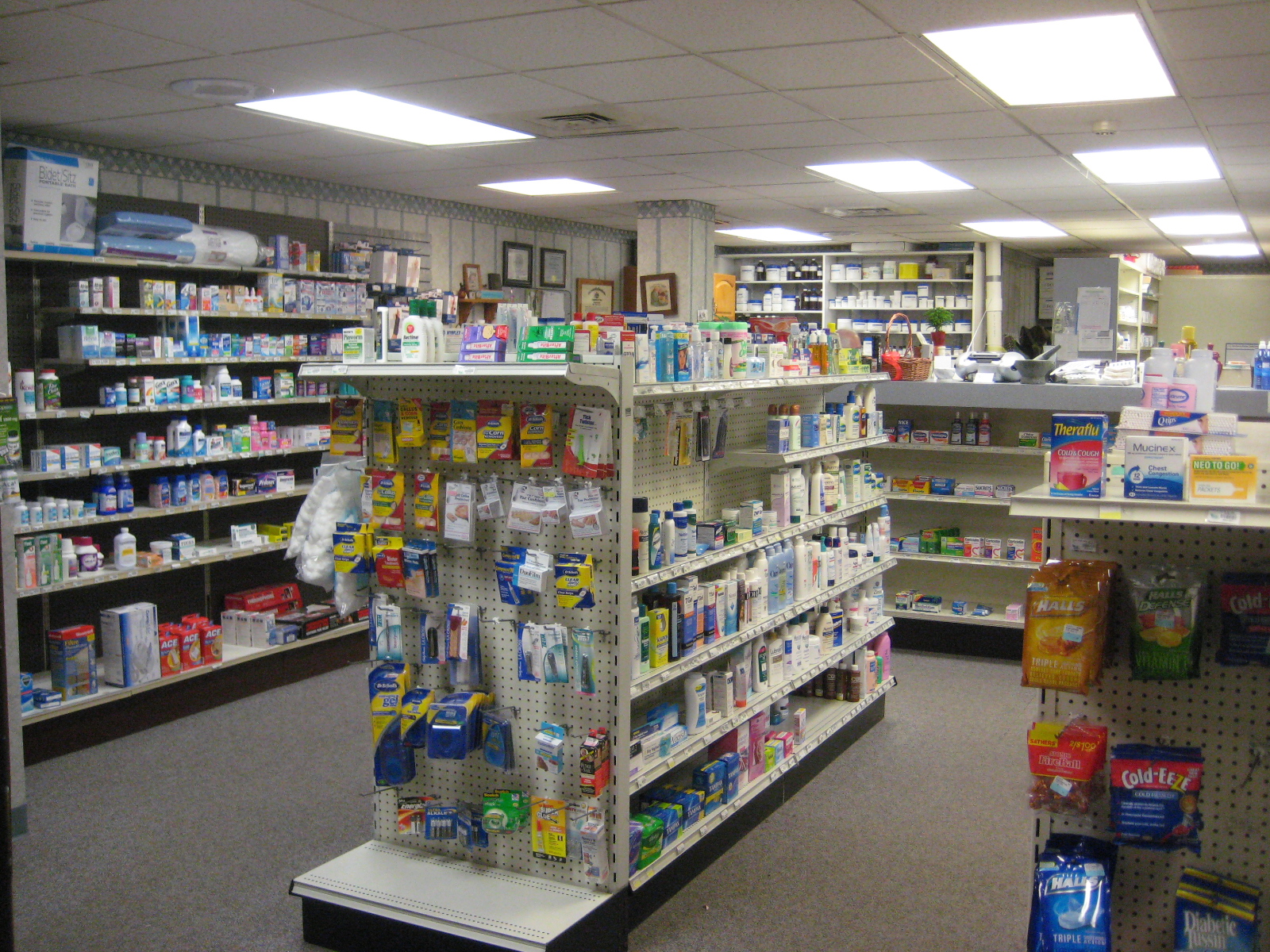 The Boalsburg Apothecary may not have French-smelling shaving cream, but it does stock an amazing inventory of stuff, plus fills all your prescription needs as well. It's like a drug store in miniature. There's really everything you need, and pharmacist Wayne Foster and his staff are there to help in any way. They're also the only pharmacy in Centre County that specializes in compounding medications for humans and animals (mostly pets). What's that? It's basically the creation of custom medications to fit specific needs. Wayne said they also make bio-identical hormones which are a natural way to replace hormones that hopefully will be accepted by local doctors someday. Apparently Oprah Winfrey has had a few shows on the subject and is rallying behind the cause.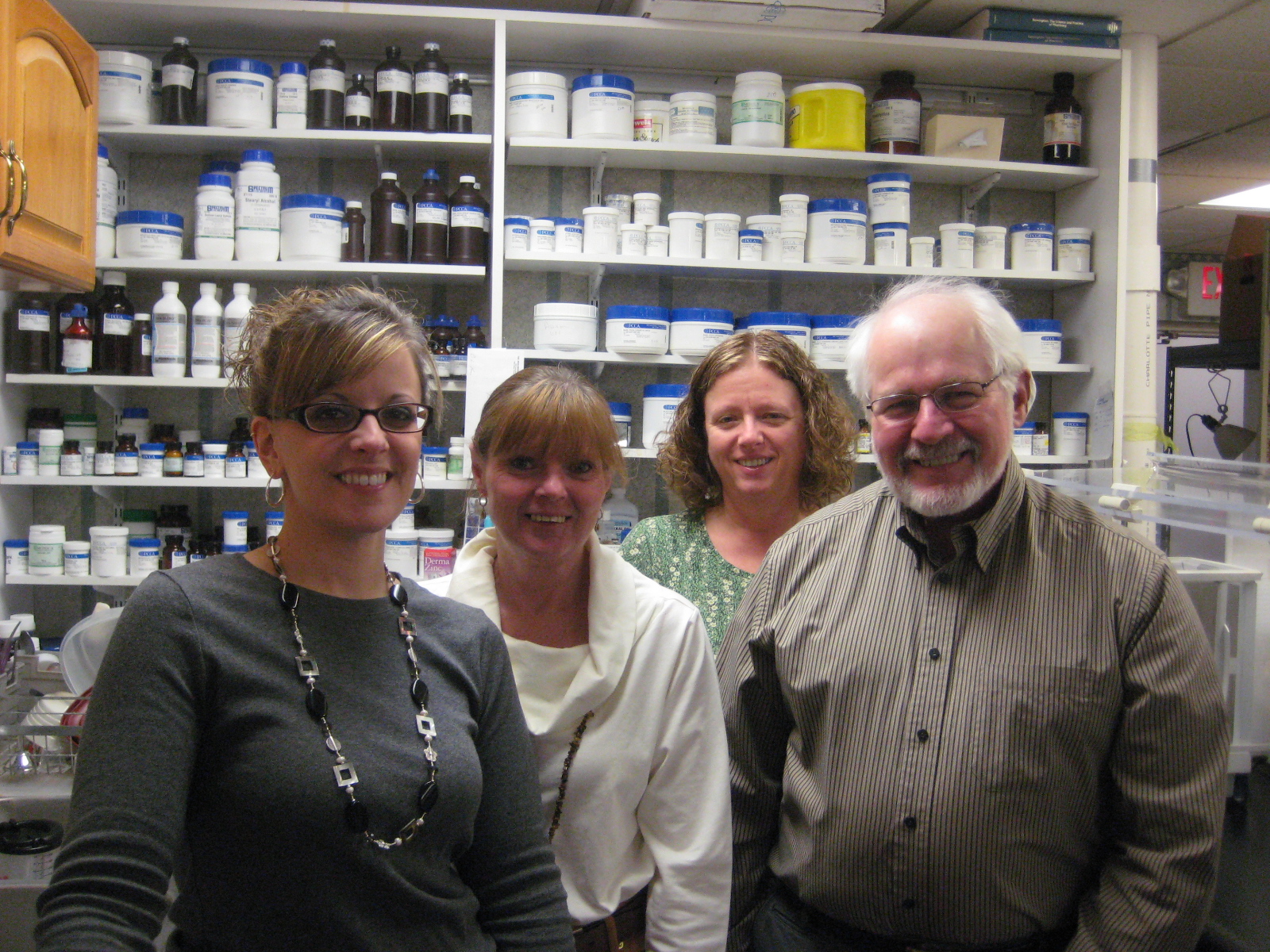 Boalsburg Apothecary has just about everything the chain places have without all the stuff you don't need. They even have candy for the kids. Wayne Foster and his team are providing a service that is all but gone in this country – a locally owned pharmacy that serves the community with the care and attention that only a locally owned place can give. So now I don't have to go all the way to Europe for a visit to a village pharmacy, I've got a great one here. Now I just have to get Wayne to carry some Casablanca-type toiletries and I'll be all set.

Please Support!
Filed under Updates