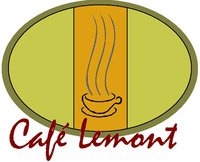 Literally hours before my manuscript for my book was to leave my laptop to head for production, I had the pleasure of running in to Cafe Lemont for a quick look around.
The following is the full story of this sweet cafe in the heart of Lemont PA.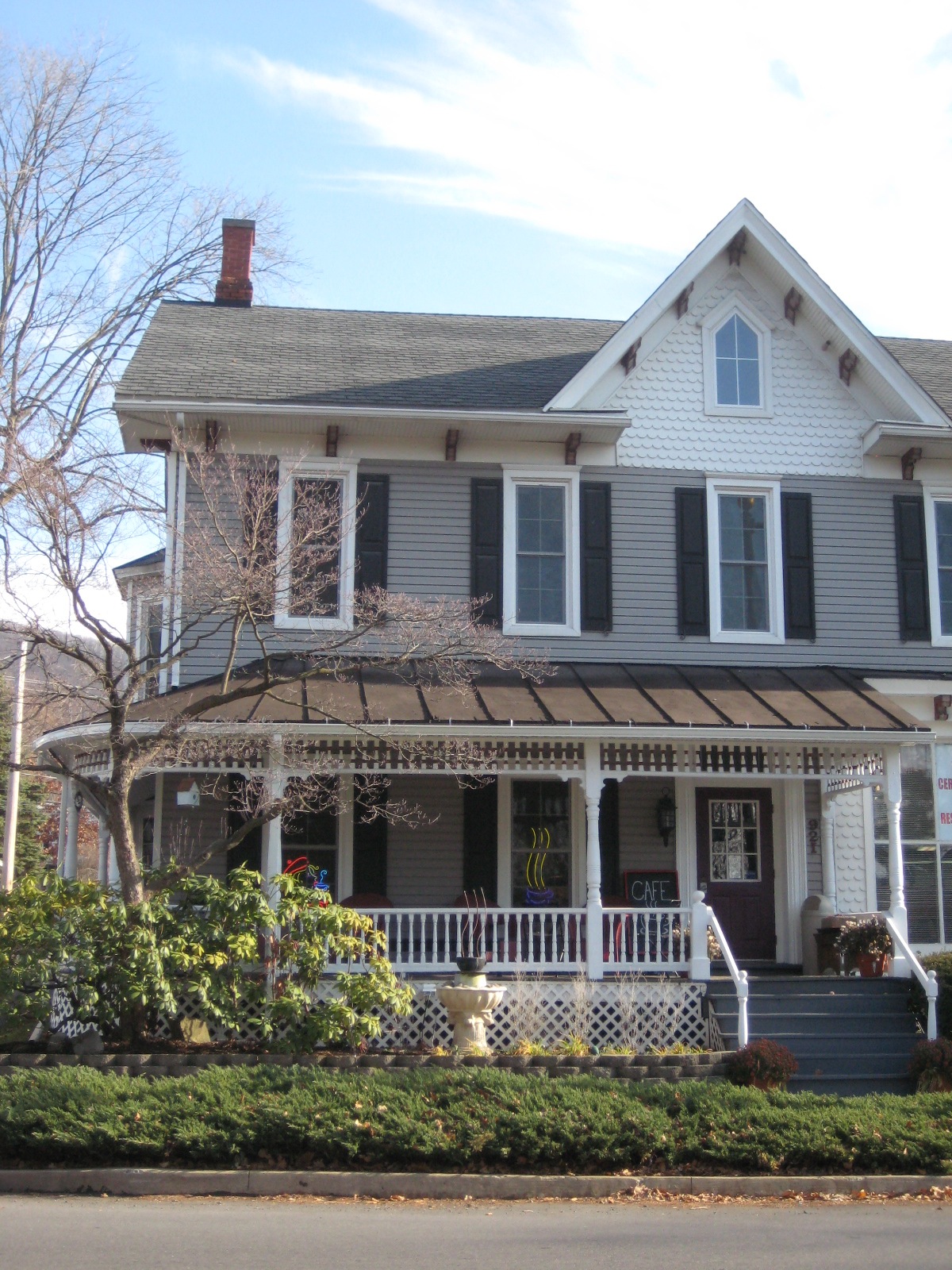 Cafe Lemont
Lemont, Centre County
Just a Taste:

Locally Owned By: Jodi Hakes McWhirter & Michael Beck
Cuisine: Eclectic mix of coffee pairings and light lunch fare
Price Range: $1.00 to $6.00
Hours: Tues. – Sat. 8am to 6pm. Sun. 10am to 6pm CLOSED MONDAYS
Location: 921 Pike St. In The Lemont House, Lemont, Centre County (Parking behind)
Wi-Fi: Yes
Contact Info: (814) 321-4337 https://sites.google.com/site/therealcafelemont/
Vegetarian Offerings: Yes
Supports Local Farmers: Yes
Locally Owned Accommodations Nearby: Rock Garden B&B (814) 466-6100
Things To Do Nearby: Hike Mount Nittany, Art alliance shows, Lemont Village Association Events
From the Book:
"Here's a wonderful and super cozy café that just opened in my birthplace of Lemont in August 2010. It's located in The Lemont House, an historic building that stands at the corner of Pike Street and Boalsburg Road. Literally hours before my manuscript for this book was to leave my PC to head for production, I had the pleasure of running in for a quick look around. The place is awesome – the interior décor is lovely with warm colors, and the place a great relaxing vibe. Out front they have a sweet little porch where you can sip your coffee, eat nice bite, and watch the world go by. I can't wait to return and take it all in."
The Rest of the Story:

So it wasn't till after the new book was off to production, did I have the chance to return, order a latte, and take a seat in the gallery room. It was a bit chilly that day so sitting out on the porch was not such a good idea. That was fine, because this room was just beautiful! Hanging upside down from the ceiling were a bunch of white parasols defusing the lighting above, and big old windows provided lots of natural light from outside. The furniture and furnishings were all vintage and filled the room along with the light conversation of locals enjoying a relaxing Saturday morning.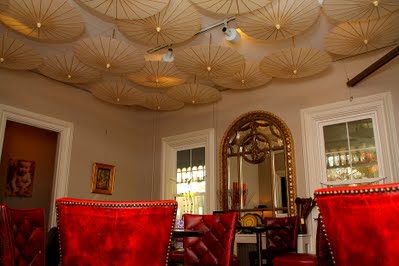 I took a seat on a little antique sofa in the corner and looked over their menu. I purposely didn't have breakfast because I heard Café Lemont had some amazing offering – they don't serve meals, per se, but they have a very nice selection of Baked Goods and Lunch/Brunch Items. The following are from those headings: Muffin, Scones, Cookie, Brownie, Coffee Cakes, Specialty Cakes, Bagel, Diner Sourdough Toast, Wrap, Quiche/Frittata, Suzie Wong's Egg Roll, Pot Stickers, Cup of Soup/Chili, Greek Yogurt, Daily Snack Plate, Edamame, Egg Sandwich, and Chicken Puffkin.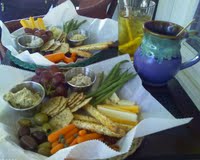 What's really cool about the coffee, tea, and food here is that it's made from some of the area's finest culinary artists, bakers, roasters and aficionados. Check out this list of "our partners" they so proudly print on their menu: Jay Schwenk, coffee roaster; April Meyers of The Enchanted Kitchen, hummus & pate; Clare Traynor of Sweet Indulgence, baked goods; Jeff Brendle aka Bligh, Bligh's Soups; Sc'Eric Horner, tea guru; Gretchen Smith of Webster's Café, baked goods; Tracy Coleman of For Heaven Cakes, baked goods; Meyer Dairy, milk. They end that page of the menu with "Buying local makes for happy communities :)"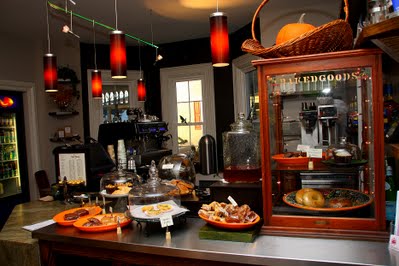 Who's "they"? Well Café Lemont wouldn't be such a cool place without cool people behind it. Michael Beck and Jodi McWhirter are cool, sweet, and totally into what they're doing at this little café in the historic Lemont House in the quaint village of Lemont PA. Both are passionate for sure, and Michael, a local, comes from a long history of the café, and coffee industry. In fact he worked in San Francesco for a number of years at a café that would eventually launch Starbucks! But after some family stuff brought him back to State College, he did some bartending where he met Jodi (ah, how things work out sometimes) and the wheels were set in motion.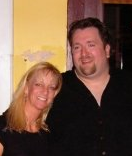 Jodi is a transplant to the area and came here as a graphic designer (no wonder the place is so well put together). Even after leaving that to be a full-time mom, she never stopped looking for creative outlets. She considers herself a people person, so her creativity found itself in volunteering and community service. She had never been in the food service industry though, but that was all about to change one day when she and Michael drove though Lemont on their way to the Art Alliance.
When they passed by the Lemont House that day, Michael saw a For Rent sign and said to Jodi "That would make a great place for a coffee shop." Nothing more was said till the woman at the Art Alliance mentioned without knowing anything about Michael's comment "Lemont really needs a coffee shop." Well, sometimes God gives us hints, and sometimes flashing signs – this seemed to be the latter. After leaving there, the Michael and Jodi walked into the Lemont House and asked about the space. Now, several months and lots of hard work later, the two are in business together, a coffee shop in Lemont is open, Michael's back in the biz, and Jodi is spreading her creative wings, and man is community feeling the love!
Café Lemont is what a coffee shop should be – locally owned, locally minded, casual & cozy, super sweet, and serving well brewed coffee & teas, delicious local baked goods & foods, and all under the love and passion of two people who found their calling together at a time and place that needed them both.
Please stop in and see and taste what I mean. It's truly a wonderful place.
Enjoy!
Filed under Updates, Local News