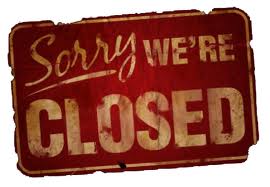 Things come and go, and in the restaurant biz, it's no different. Unfortunately, since my first book was published in December of 2007, several places have closed, changed hands, or moved. Please click the Keep Reading>> link below for the details.
Thanks!
Ken
Volume 1
Closed:
Page 21 - Agostinelli's in Boalsburg
Page 46 - East-WestCrossings
Page 73 - La Bella Trattoria in Bellefonte
Page 110 - Blackwell Hotel in Blackwell
Page 148 - Herwig's Austrian Bistro Lewisburg Location
Page 182 - Spruce Hill Lunch in Spruce Hill
Page 192 - The Niche in Shippensburg
Page 195 - Heavenly Grounds in Chambersburg
Page 231 - Johnstown Brewing Co. in Johnstown
Changed Hands:
Page 221 - Saint Drogo in Hollidaysburg is now the Black Dog Coffee and under new ownership.
Page 95 - The Waterville Hotel has new owners. Haven't been there, but hope to soon and get info.
Changed Locations:
Page 58 - Websters Cafe TBA

Volume 2
Closed:
Page 105 - Bavarian Barbarian
Page 164 - Reedsville Seafood Company, Reedsville, PA
Page 199 - Kitty Hawk Restaurant
Changed Hands:
Page 208 - East End Hoagies has new owners. Very cool couple. Same amazing hoagies, don't worry.

Please let me know if you find one closed that I don't have listed here. Thanks.
Filed under Updates, Local News