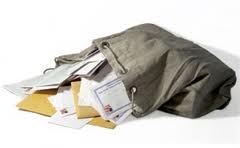 I recently posted an email from Jane in England - she's yet to experience my books, however she raved about them in anticipation. Then, I received an email from a guy I met while we were both sitting out a summer downpour at Boxer's Cafe in Huntingdon. He overheard me talking about my books and jumped in to tell me that he was there that day because of them.
A day later, I met him and his wife for a ride to Elk Creek Cafe. With few options to get there, and both being hard-core motorcyclists (they own 11 between the two of them - and they both race!) who ride a lot, I had to dig deep into my bag of tricks to try and surprise them with roads they didn't know. I was successful, and we had a wonderful ride and dinner that evening.
I asked him if he would comment on their experience, thinking he would write a sentence or two. This is what I got.
"Dear Future Readers,

Discovering Ken Hull's Going Local book has undoubtedly been one of the best things to happen to my wife and I since arriving in State College four years ago. As appreciators of great food and twisty back roads, his book has served as an indispensable companion—resulting in countless adventures, new friends, and now favorite restaurants!

I was delighted to unexpectedly meet Ken not long ago (at Boxer's, one of the places he recommended, no less). Sitting out a torrential downpour, warm conversation ensued while notes were compared. The next day we took a delightful trip with him to yet another one of our mutual favorites, The Elk Creek Cafe. It is hard to know what we like best, Ken's company, his superb guidebook, his uncanny ability to locate great eats, or his savant-like power to conjure up incomparable roads out of a thicket of indecipherable gray lines on a map.

Get off the sofa and treat yourself to the best of the region while relying upon Ken's guidance without trepidation!"

~David + Rebecca